Spill containment systems
Gator Spill Containment Caddy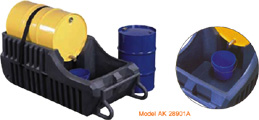 The Gatorฎ Spill Containment Caddy offers you convenient handling and dispensing of
hazardous chemicals with complete assurance of compliance with EPA and OSHA regulations.




Gator Single and Double Drum Collection Centers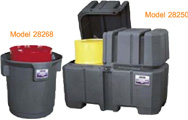 *Rugged drum collection centers are made of all-weather, chemical-resistant Gator-Tuff
polyethylene which stands up to the harshest environments. All are designed to be forklift able
for easy relocation. The Both collection centers are fully compliant; each unit's sump capacity
meets EPA requirements.




Particulate Filter
Filter Retainers and Platforms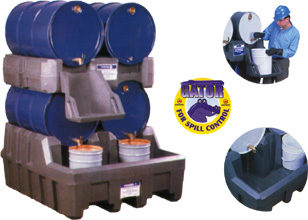 Gator Drum Management System meets safety and environmental protection requirements
while organizing drum storage for maximum efficiency, productivity, and cost savings. The design
accommodates either 30- or 55-gallon drums of Class 1B or 1C flammables and combustibles.
Space-saving design is also ideal for storage of non-hazardous liquids. Gator-Tuff, UV protected
polyethylene construction provides maximum chemical compatibility and resistance - preventing
corrosion and deterioration, assuring a long lifetime of service. Molded-in drum lock channels hold
drums in place. The system consists of three modules: base, stack and dispensing shelf.



Spill Control Pallets




Eco-friendly pallets are made of up to 100% recycled polyethylene, making them twice as good for
the environment! They not only protect against groundwater contamination, they also utilize post-industrial
material that might have otherwise been discarded into the waste stream.




Spill containment systems
Spill Control Funnels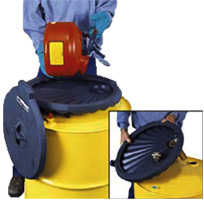 Gator Polyethylene Spill Control Funnels fit all closed head 30- and 55-gallon drums. Low profile,
wide diameter opening offers large "target" for quick, easy pouring. Scalloped, sloping design minimizes
splash and prevents containers from resting in their own liquids. Large flat well at the throat of funnel
allows for passive draining of paint cans, filters, buckets and other containers. Molded-in hook makes
a convenient way to store optional funnel cover.
Funnel for Flammables includes a drum fill vent with 6" perforated brass flame arrester. Threaded bung
cap seals in flammable vapors under normal storage conditions. In high temperatures, pressure relief valve
opens to protect drum and prevent explosion. Flame arrester prevents fire flashback. It also offers vacuum
relief by allowing hot contents to cool, protecting against drum collapse.




Accumulation Centers



Get reliable, high performance spill control and help reduce landfills by using recycled products.
These economical, low profile secondary containment platforms are eco-friendly- made of up to
100% recycled, post-industrial, durable polyethylene that might have otherwise been discarded
into the waste stream.



Safety Can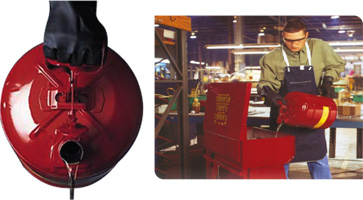 * Safely contain hazardous liquids and control vapors to reduce the risk of fire,
protecting both personnel and facilities.
* Offer compliance with federal OSHA regulations and state and local fire codes.
* mprove efficiency with ease-of-use features to enhance pouring and filling operations.



Utility Products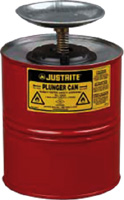 * Here is a remarkable selection of tools that make working with
flammables and solvents safer and easier. Justrite Plunger Cans
are designed to moisten cleaning cloths and swabs. Dispensing
Cans allow for one-hand dispensing directly onto work surfaces.
Justrite Dip Tanks, Bench Cans, Wash Tanks and Rinse Tanks are
specially engineered for cleaning parts and subassemblies.
* New LubeRite™ storage and dispensing containers for lubricants
offer a fully sealed system to reduce lubricant contamination and
keep equipment running at peak efficiencies.
* Head lanterns and Light-sticks provide bright light in rugged settings.
When it comes to hard working tools, Justrite offers a variety of solutions
to make your work processes safer, easier and more efficient.


Safety Cabinets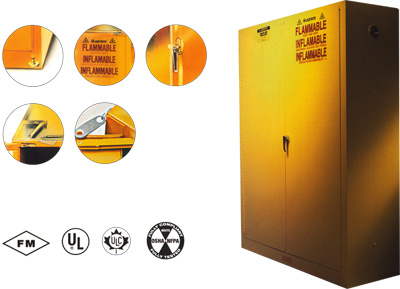 * A wide variety of code compliant cabinets are available in sizes ranging from
4-gallons (15 liters) to 120-gallons (454 liters). Smaller cabinets allow solvents
to be stored at worksite locations saving costly trips to a central storage room.
Undercounter, wall mount and piggyback style cabinets add to safe storage, even
when space is at a premium. For high capacity storage, including storage of 55-gallon
drums, larger sized cabinets designed specifically to house 30-gallon (114 liter)
or 55-gallon (208 liter) drums are available. Itํs important to note that OSHA Code 29
CFR 1910.106 states that not more than 60-gallons may be Class I and II liquids.
Custom sized cabinets are also available for unique requirements