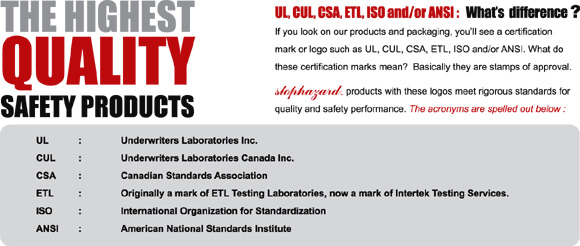 In operation for more than a century, Underwriters Laboratories Inc. is an independent
nonprofit organization that writes, tests and certifies products for safety. UL has developed
more than 800 standards for safety, and millions of products and their component are
tested are tested to UL's requirements. As a result, consumers live in a safer environment.
UL's Standards for Safety are essential to helping insure pubic safety and improve product quality.
Information about UL standards can be found at http://ulstandardinfonet.ul.com.



Underwriters's Laboratories of Canada (UL Canada) is an independent nonprofit organization
that writes and tests products for safety. ULC has tested products for public safety for more
than 80 years and is accerdited by the Standards Council of Canada, under the National
Standards System. information about CUL standards can be found at http://ulc.ca




The Canadian Standards Association (CSA) is a nonprofit association serving business,
industry, government and consumers in Canada and the global marketplace. Among
many other activities. CSA develops standards that enhance public safety. A Nationally
Recognized Testing Laboratory, CSA is very familiar with U.S. requirement. According to
OSHA regulations, the CSA-US Mark qualifies as an alternative to the UL Mark. information
about CSA standards can be found at http://csa.ca

The ETL Listed Mark is an alternative to the CSA and UL marks. ETL
(Edison Testing Laboratories) has been conducting performance and reliability
tests since 1896. Intertek Testing Services (ITS) acquired ETL from Inchcape in 1996.
ITS is recognized by OSHA as a nationally Recognized Testing Laboratory (NRTL),
just as Underwriter Laboratories (UL), Canadian Standards Association (CSA) and
several other independent organizations are recognized. ITS tests products according
to nearly 200 safety and performance standards. The ETL Listed Mark and C-ETL Listed Mark are
accepted throughout the United states and Canada when denoting compliance with nationally
recognized – standards such as ANSI.IEC,UL and CSA.



ISO (Internation Organization for Standardization) is the world's largest developer and publisher of
Internation Standards. ISO is a network of the national standards institutes of 162 countries,
one menber per country, with a Center Secretariat in Geneva, Switzerland, that coordinates the system.
ISO is a non-governental organization that forms a bridge between the public and private sectors.
On the one hand, many of its member institutes are part of the governmental structure of their countries,
or are mandated by their government. On the other hand, other members have their roots uniquely in the
private sector, having been set up by national partnerships of industry associations.
Therefore, ISO enables a consensus to be reached on solutions that meet both the requirements of
business and the broader needs of society. Because "International Organization for Standardization
" would have different acronyms in different languages ("IOS" in English, "OIN" in French for Organisation
internationale de normalisation), its founders decided to give it also a short, all-purpose name. They chose
"ISO", derived from the Greek isos, meaning "equal". Whatever the country, whatever the language,
the short form of the organization's name is always ISO




ANSI is the acronym for the American National Standards Institute, a nonprofit organization
that serves as administrator of the United States private sector voluntary standardization system.
The primary objective of ANSI is to promote and facilitate voluntary consensus standards and
conformity assessment system. ANSI does not have authority to enforce such standards are
used by Occupational Safety and Health Administration (OSHA) to be sure that certain safety
devices, such as eyewear, provide adequate protection for workers.