Mobile Foam Unit
DF130 Mobile Foam UnitDF130 Mobile Foam Unit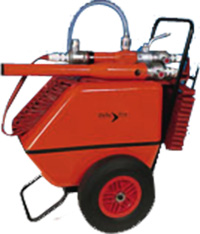 The Delta DF130 Mobile Foam Unit, ideal for protecting
oil storage and other high risk areas, is ergonomically
designed for rapid one man deployment. The unit requires
a connection to a suitable pressurized water supply.
Filled with 3% foam concentrate the DF130 will give
a running time of approx 20 minutes, with a foam output
of over 34,000 litres of finished low expansion foam.