Retractable Lanyards
2008 Series Retractor Compact and Durable Self-Retracting Web Lanyard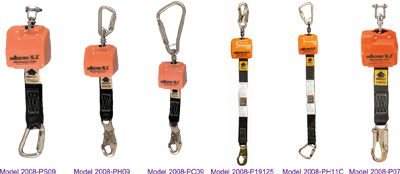 * Neoprene Covered Steel Housing/2" wide Polyester Webbing.
* Stress indicator alerts user when device has been stressed.
* Sturdy steel covered with neoprene housing weighs only 3 lbs.
* Quick and easy installation.
* Inertial braking mechanism.
* Chemical resistant polyester webbing.
* Specialized webbing provides additional energy absorption.
* Available size 5' – 11'
* Separate serial number for each self-retracting lanyard for tracking
and record keeping.
* Meets OSHA 1926.500 subpart M, 1910.66 appendix C, ANSI A10.14
and Z359.1 standards.


Self-Retracting Lanyards
2700 Series Retractalok Proven Tough Self-Retracting Lanyards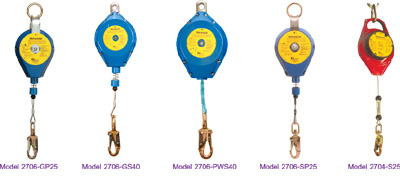 * State-of-the-art centrifugal braking mechanism.
* Eliminates slack cable hazards.
* Double locking stress indicating snaphook.
* Galvanized, stainless steel, Kevlar-fiber, or polyester-web lifelines are available.
* Length up to 170 ft.
* Easy to install and use.
* Separate serial number for each self-retracting lanyard for tracking
and record keeping.
* Meets OSHA 1926.500 subpart M, 1910.66 appendix C, ANSI A10.14
and Z359.1 standards.
* Available Size 25' – 170'