Clean Room Products
Mop Cap 19"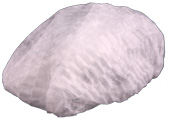 * Mop caps are designed for various purposes, breathable and
comfortable for hours of long wear.
* Latex-free elastic.
* There are various styles both plain (White, Blue) colors.



Pain shoes cover



* Complete range of shoe cover and boot cover both plain and non-skid
latex-free bottom, which added safety. Latex-free elastic is available.
Good for protection against fluid penetration. Stretches to fit virtually
any shoe size.